2012 Wrap-Up: Best Beers
It's Christmas morning (while I write this, New Years Eve when you read it), the fiancee is baking cookies, so many cookies. I have my headphones on pumping Black Light Burns (

my number 1 album, in case you missed it!

), so I can drown out the sound of Andy Cohen's "
Watch What Happens: Live" playing in the background. Sandra Bernhardt is on and I just...can't. By the time you read this, Christmas will be over, wrapping paper will have been rolled into balls and thrown at those nearest you, and you probably ate till you're blind. I hope you all had a great Christmas or whatever it is you celebrate.
This is the main event, the Top 10 beers I've consumed during the 2012
calendar
year. It
doesn't
necessarily
have to be a beer that came out in 2012,
otherwise
I would have two completely different lists. I'm doing this list with a lot of help from my spotty memory,

Untappd

, and my photo library.
It took me a few days to compose this list. A lot of them, upon first sip warranted a "Holy shit!!" A lot of them required really paying attention to what I was drinking and studying the different things going on. Some of them are just around damned good.
Starting from 10, here is the list:
I picked this up on

my Philly day trip

. I
didn't
review it. From Untappd: "The nose is amazing! Coffee and vanilla. A beautiful and thick head,
full-bodied
and boozy. Damn this is good. Be jealous."
And the bottle art is to die for
Mark makes some of Connecticut's best beer, I like to think of him as a friend of mine, and he has been a monumental help in my blogging career. This beer is a formidable one, indeed. From my

Relic Brewing post

: "A citrus IPA with 8 different hops! This got me all kinds of excited. Now, you don't normally see the term "Citrus IPA" too often. You'll see "citrus" used in a description, sure. But this was way, way different. This was (in my head) some strange hybrid of a really good White Ale and IPA."
I love his labels. They're very unique! (Source)
As far as stouts go, this is delicious, smooth and tasty, with a slight alcohol haze. This beer took that, and made it it's bitch. The nose is all dessert, it smells exactly like the name. The taste is burnt vanilla and yummyness. This is the epitome of a perfect dessert beer. I loved every sip, and luckily enough, so did my fiance. I bet this is delicious over ice cream. I did not review this.
7)

New England Brewing Company "668 Neighbor of the Beast"
(

Belgian Strong Pale Ale

)
I did not review this beer. It looked and smelled light, fruity, and delicious. It drank strong. Real strong. No wonder I could only get it in a 4-Pack. Alas, my other searches for it have proved to be let downs. This was favorite beer of the summer!
6)

The Bruery "Fruet"
(

Old Ale

)
This was absolutely my favorite beer during my going away party at Relic Brewing. It is only the second beer from The Bruery that I have ever had. It stole my heart, and my sobriety (I kept going back from more). A barrel aged bottle of goodness, at nearly 16%. It was an intense and complex beer. I wish to Buddha I could get my hands on another bottle. I'm looking forward to the 2013 Anniversary bottle!
5)

Sixpoint "
Bengali
Tiger"
(

American IPA

)
All I can really say, because I have a post coming about this beer, is that it is one of the best IPA's I've ever had. And as a brewery in general, Sixpoint is amazing. I have a hell of a story involving them and their kindness documented in

this post.
Next time you see this picture, you have to pretend it's new!
4)

The Bruery "Otiose"
(

American Wild Ale

)
Two Bruery beers in one post?!
When I started this blog, one of the greatest things happened to me...
I got blogger mail
. It was full of beers I had never had. And beers I will most
definitely
not ever have again. This beer floored me. Prior to this, the only other sour/wild ale I had had was

Olde Burnsides
Highland
Wild
Ale
, and it was a whole new
experience. The Bruery
doesn't
seem to do anything along conventional lines, which makes me happy. As we speak, I have a bottle of Tart of Darkness waiting for the perfect moment to be opened. I
couldn't
even bring myself to open it on 12/21/12. Not even the end of the world was enough to make me want to open it.Their beers are that good Otiose was an oak-y kind of sour. It was different and exciting and I've been on the look-out for another bottle since!
3

Russian River "Supplication"
(

American Wild Ale

)
Another bottle from bloggermail! I split it with my Aunt, who was amazed that this was a beer. Because of this beer, it has lead me on
expeditions
to find more sours. I have had much success in the form of other people bringing their bottles of sours to my going away party, but little in the sense of stores carrying them. That front is starting to change though...Anyway. this beer is top notch, world class, amazing.
I almost didn't want to post this picture. Ugh, freakin' amateur hour.
2)

Ballast
Point
Brewing "Sculpin IPA"
(

American IPA
)
One of the first beers I pursued with the absolute purpose of reviewing, you can

read about it in one of my first posts

. From the entry:
"Anyway, as it hit my tongue I thought "I paid $6 a pint, for THIS?" It was a sweet, bubble-gummy taste, big whoop. Before I could finish my thought there was a HOPS EXPLOSION! In the span of about half a second that beer blew my friggin mind."
I have had hundreds of IPAs. And a lot of them came after I had Sculpin. This beer has become the bar of which I set my levels of expectations for IPAs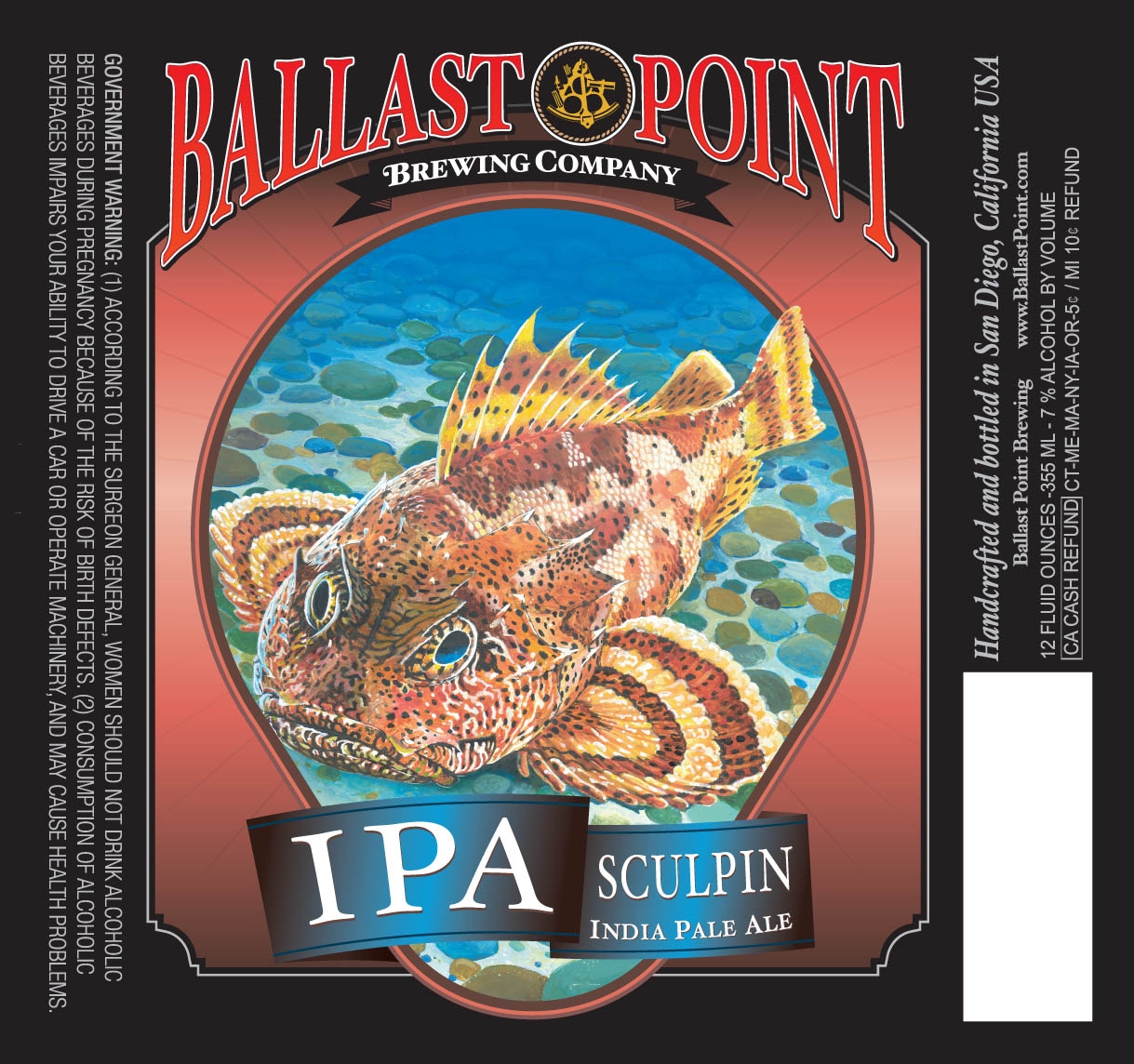 My own photo of this is awful. Not even close to almost being acceptable. (Source)
And my number one beer for 2012 is.............
1)

Bells
Expedition
Stout
(2011)
(

Russian Imperial Stout

)
Every stout I've tried
since
this has been pretty much "This ain't no
Expedition.
" I also received this bottle in blogger mail, and reviewed it! From the review:
"There is a slight bite of bitterness at the back end. And the coffee jumps in at the last moment like "OH HEY, DON'T FORGET ABOUT ME!" this is almost the perfect stout. And while drinking, I wouldn't shut the F-Word up about it on my social networks! Wow. This beer almost brought tears to my eyes"
This beer was simply amazing.
Ta-DAAAAAAAAA



So, that kind of wraps up my best bottle and tap
experiences
from the year 2012. It was a hell of year. I learned an incredible amount about beer this year, I expanded my palate ten-fold, I branched out and made new friends and
acquaintances, met some amazing people, and drank some amazing beer.
All because of beer. Beer brings people together. This blog has brought me nothing but good things in the short time I've had it. Here's to hoping 2013 will bring about more! And it will. I have a lot planned for the coming year, now that I'm settled into my new city (which as a city, has a LOT going on in terms of craft beer).
Thank you all for your ongoing support, you've made this all possible for me.
Happy New Year!
Love,
Hipster Brewfus